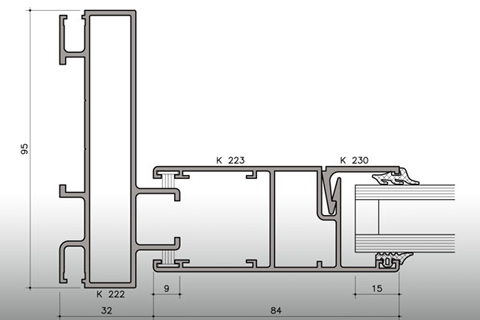 This series for windows and doors permits the fabrication of classic, sliding shutter elements and also frames including both underneath and overhead lights blending perfectly with the profiles from the 56 IW series. The closing device of the sliding shutters uses an exclusive multipoint lock taken from the same Cremone handle used in the casements to assure the product maximum security and eliability.
The classic design of the sliding element is accentuated by glass beads cut at a 45° angle just like the sliding frames. This series is also available in a new external frame made with a 45° cut that guarantees a practical and rapid assembly of the sliding components.
Technical Features
Extruded sections in alloy primary aluminum EN AW-6060 [UN I EN 755-2) T5
Gaskets/static and dynamics in EPDM compound
Average heat transmission of the facade grid between 1.3- 2.4W/m2 K [depending on the hermal components and the gaskets used) figure calculated according to EN 13947 international standard by validated software.
All of the accessories are made by Stylish windows and are produced with high quality materials. The mortised handle has been given a security device to block the closing hooks and the trolleys are adjustable with a metal die cast body that permits a capacity load of 150kg per shutter.
The profile allows the installation of glass from 6-24 mm in thickness. The glass is held into place by glass beads with internal and external gaskets.
Possible manufacturing solutions
Windows and doors from 1-6 sliding shutters, frames made with an overhead light, underneath light and adjustable or fixed side lights. The profile for the outer frame can be made traditionally with a bottom rail side mullion and a horizontal top rail or with a single profile cut at an angle of 45°.