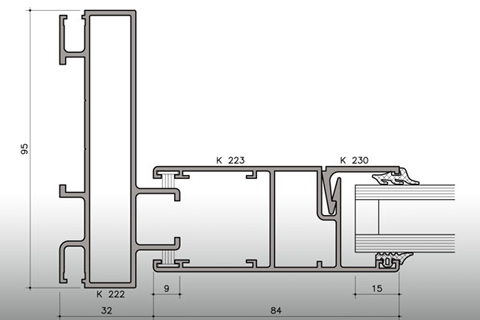 Uninsulated series suitable for the fabrication of doors and windows used in industrial actories or workshops or for public/private constructions in areas with a temperate climate. The range for these windows uses the constructive concept of the central gasket to guarantee the final product a high level performance against weather conditions.
The external opening windows are equipped with a traditional double overlap gasket. The complete range of rofiles accessories and a logical combination of these options allows us to fully satisfy all of the current projecting needs of our costumers. Furthermore the same hardware used for thermal- break systems has been applied to this series, which allows it to reach relevant dimensions and capacity loads.
Technical Features
Extruded sections in alloy primarily aluminum
Gaskets/static and dynamics in EPDM compound
Windows and Balcony doors profiles
Frame depth 45 mm
Shutters with central gaskets 55 mm
Shutters with double overlap 45 mm
Rounded and enlarged profiles for outer frames and open-able shutters and column sections up to 95 mm in depth are also available to meet different static and architectural needs.
Windows opening inside are externally flat and internally over-lapping with the central asket concept; for the externally opening windows- the double over- lapping gasket gap is 10 mm.
Range of sections for flat doors with an outer frame and shutters depth of 45 mm
This series allows the installation of a range of glass from 4-28 mm thickness. The glass is fixed by various types of glass beads: squared, rounded or tubular [this last version is particularly suited for shop windows or large elements], with internal and external gaskets. The external tight gaskets are continuous and don't show juncture in the corners.
Possible manufacturing solutions
One or two shutter casements opening outside, 1,2,3,4 shutters casements and balcony doors opening inside, tilt windows, turn and tilt, Turn-turn and tilt, vertical and horizontal pivoting windows, tilt and slide doors, swing doors, strip windows, doors opening inside and outside, wall covering for industrial factories.